Wield an Edge.
Triumph All Odds.
Double Edge: Armor of God comes with 2 game variants (Standard and bonus Sion Fusion!)
​
Single player, offline gameplay.
Requirements OS: Windows PC
DEAOG Standard 256MB file space, 4GB RAM memory.
DEAOG Sion Fusion Edition 223MB file space
DEMO 99MB
Tested on Windows 8 and later.
Installed DirectX 9.29.1974.1(provided)
Internet for game downloads/DirectX update.
Years of ministry missions for Sovereign Kingdom demanded changes of old locations. But the portal lab has hidden entrance ways located in various locations. Another library facility recently became a new entrance site to move via laboratory. With upgraded armor and help from Luis and others, now Church can advance in new areas unexplored.
​
Complete ministry objectives and combat enemies in your armor.
​
Play as Church and Emmanuel in 36 unique maps in 1st and 3rd POV.
​
Use portals to transport abroad multi plane global locations.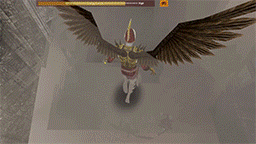 Double Edge AOG - Bonus Sion Edition